Peter Johannes Holzer ...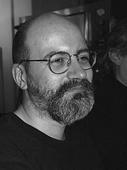 ... was the name my parents chose to have written in my certificate of baptism. Not being content with two Christian names, my fellow men invented a few more so that even I don't know what I am called any more. This sad story has been told innumerous times and even posted to alt.peeves .
What am I doing here?
As the System Administrator of the WSR I was responsible for our Unix hosts (originally HP 9000/8xx servers and 9000/7xx workstations, but nowadays most servers run Linux), LAN and Internet connectivity. Most of the networking and Linux stuff is now done by my colleagues and am working mostly (erm ...) on the FIW project .
What about my spare time?
I am interested in all sorts of operating systems and used to hack the kernel sources of Minix, Linux, and VSTa, but these days I don't seem to find enough time, so I am only a member of the Linux User Group Austria , and am shooting my mouth off at several mailing lists and newsgroups.
When I can't stand the sight of a monitor, I am relaxing with a book (mostly SF , especially American hard SF , although I have been reading (with large gaps) the German 'Perry-Rhodan' series for more than 20 years now. When forced to leave a building ("I'm no agoraphobe, I'm a claustrophile" - to cite Isaac Asimov), I am mostly traveling by feet, bike (with or without motor) and public transport. Rumour hath it that I am jogging occasionally.
After buying a digital camera in 2009, I rediscovered photography . More recently this led to a project which will keep me busy for a few decades: Wowbagger Vienna .
Midnight at the Lost and Found
The Twin Towers of Soekris , or how to cool a fanless computer.
I've written a few plugins for the qpsmtpd SMTP server. There are also RPM and Debian packages in the apt repository .
A small test how Google handles the id parameter in URLs . And since MSN bot found the test pages, too, it is also included in the results.

---

RFCs . The information from the rfc-index (e.g. "obsoleted-by") is included with each RFC. There is also a Full text search .

---

Programs I wrote. Mostly small tools I wrote for a specific purpose and carelessly mentioned on some mailing-list .

---

Lyrics . No, not my own. Just some I liked well enough to write them down.

---

A link for Google . Just a little test whether Google handles soft hyphens correctly.
Another link for Google and other search engines. Let's see who honors robots.txt and the robots meta tag.
$Date$